Search for antlers day 2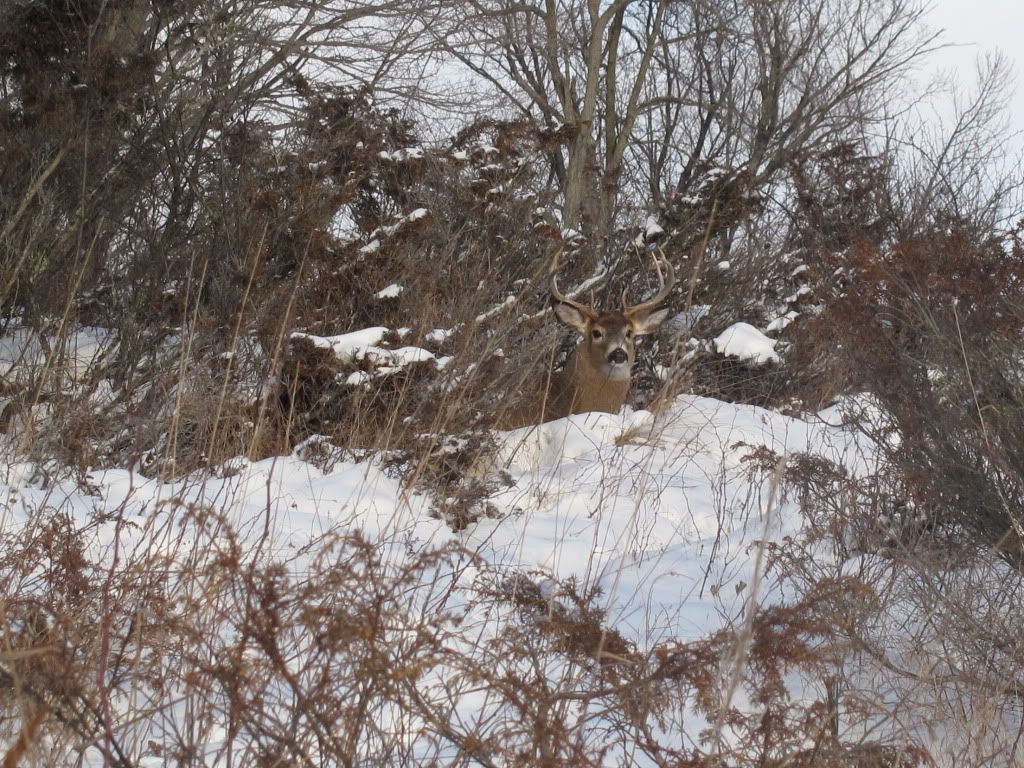 I went outside this morning and found deer Norman standing there with one antler. Just as I was talking to him, I noticed out in the yard towards the pond, something that didn't quite fit. It was not very close to a trail, and the snow was undisturbed except for one tiny thing sticking up. I went down to look and sure enough, it was an antler, and maybe 1/2 inch of it was above the snow, the rest was buried. I pulled it out, and it was Norman's. He lost that antler sometime between last night around 6 and this morning. And if I had not have had a vision of antlers fresh in my mind, I would not have seen it at all.

Deer Norman's antler
Torn Ear's antler and deer Norman's

We spent about 2 hours looking for Torn Ear's other antler today. It's very hard walking in the bush. In most places you get walking on top of the juniper and break through up to your waist. With every step you break through the layer of ice under the snow and sink to your knees, so each step takes a lot of effort and energy. It was exhausting even though it was a short walk. We found lots of trails, lots of beds. Kevin found some blood by the island pond but it just disappeared on the trail. The coyotes must have been because the fawn that died on the ice was dragged off the pond, probably last night.




It's warm today, so one of our resident porcupines came out to eat and check things out. It was a young one, really small still. While I was taking pictures I was surprised he started coming down the tree. He was coming down to get into his hole in the tree at the bottom. He climbed all the way down and ran into his hole, and safety, as quickly as he could.

Now we are not sure what is wrong with the Argo for sure, but Kevin is going to go play with it, probably get stuck, and see what happens. It's almost time for me to put everyone in the barn for the night. The sheep were waiting for water this morning, and got impatient and went back to their hay. When I came out with the water and called them all, no one listened which was unusual, but Horace came running! Except he thought I had treats and not water, so he stuck his nose in, sneezed, yelled at me, and trotted back down the trail to the hay. Life is rough being a sheep.

As for the antler search... it will continue. There is always a chance to find it in early spring when the snow goes as well but it's very likely to be all eaten up by then by mice or porcupines. There is quite a bit of snow in the bush and if the antler is near a trail, or in a bed... or didn't break through the snow, then maybe we'll stumble across it. You never know. We searched and searched last year and then by chance found one of his antlers right off the road by our turtle pond. It could be in the yard like deer Norman's was. Or it could be a mile away. The trail systems these deer have out is incredible.... It's fairly easy to find his tracks or at least buck tracks, but there is more than one buck here and multiple main trails and side trails, so it takes a lot of walking and a very careful eye. You can easily miss an antler in the snow, especially one that is completely or almost completely buried. We've lucked out before and found one of his antlers in a bed, two or three winters ago now. But that's not always where you find them, although it's the place we hope he left it because our chances of locating it will be a lot better than if he dropped it some random place.