Brrr, it's cold outside
It's cold here today zero F and the windchill isn't nice. The sun is shining which the horses are loving though. Douglas went to the Vet yesterday for his next set of puppy shots. He's almost 5 pounds now and doing really well, the Vet was so pleased with how happy and healthy he is. So are we... it's been a rough road with that little pup. Our new Prairie dog wheel showed up from Oregon. The Pd's LOVE it. And it's quiet and completely safe so we love it too. With shipping it's close to $100 but it's the best wheel going as far as I am concerned. Since buying the one for our guys last year, we've been very pleased and they just love it, which is really all that matters. The company is good to deal with and much to our complete amazement, the wheel got here in less than a week, which is unheard of.
Deer Norman sleeping outside our bedroom window
Maximus is now 2 years old. Hard to believe. He's coming along. He's sure been hard to train compared to Flav and I cannot not trust him like I do Flav. However he is an angel with the rabbits - and he is a wonderful guard. He protects the barn and the house and always lets us know when someone is here. Both dogs have their own special qualities. I gave them some lamb and potatoes this morning, which went over very well. Max did really good, while he was eating, Buckwheat the buckling came over to see what Max had, and Max told him to stay away but did not bite him. Buckwheat stuck his nose right into Max's food and Max didn't hurt him at all. Of course, I was standing there, so I'm sure that helped in his decision to be a good boy, but he did a very good job. He's chewing on a pigs ear in the sun now.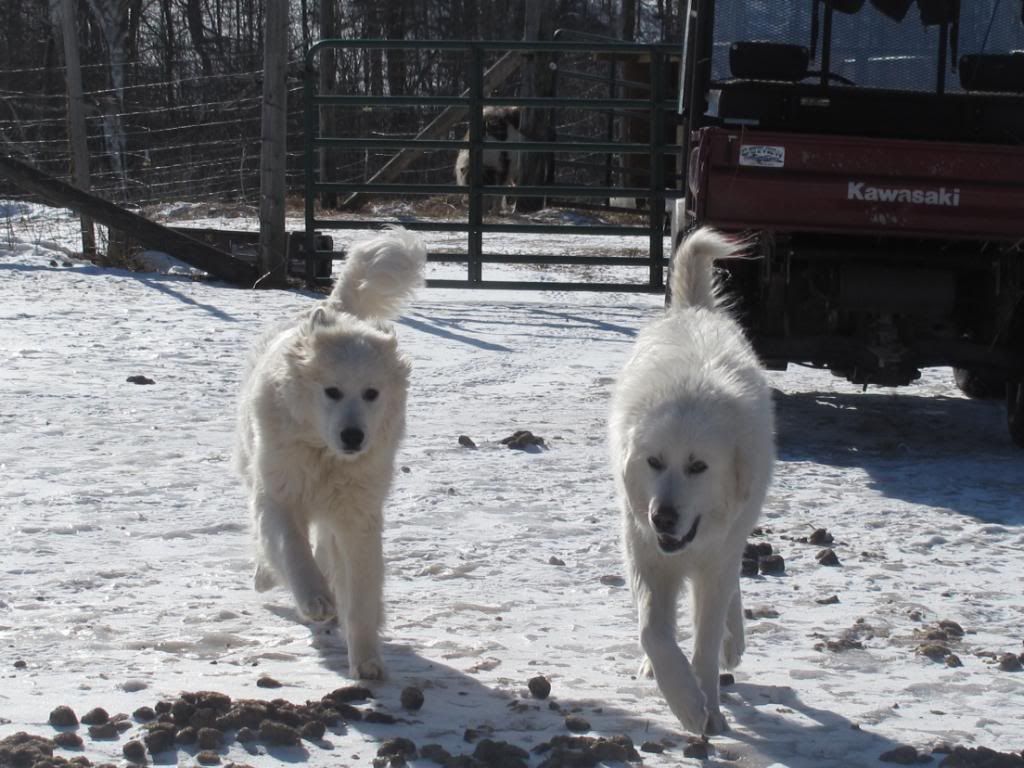 Even though it's quite cold, it's warm enough inside the barn I was able to take off my hat, mittens, and coat for the hour I was working in there. There is absolutely no wind, so that makes a huge difference, but also with the white tarp the light and sunshine gets in and warms the place up. The sun really heats it up almost like a greenhouse. And it's so bright in there. It really is just about perfect for the animals, especially in winter. The sunshine coming in lighting up the place, and no one seems to notice it's cold outside. And my water has not frozen even in this cold thanks to the insulated box Kevin built and the light bulb.
Wrambler in the snow
It snowed quite heavily Wednesday. The most snow we've seen in a long time this winter. It didn't amount to much though. The wind was gusting terrible. We hiked the other day for most of the afternoon in search of Torn Ear's antlers. We covered a lot of ground, but several of the likely places still had a lot of snow- easily deep enough to hide an antler, even one as big as his. I plan on checking the marsh this evening before the snow is too heavy. I've checked the edge of the yard and the pond, but not the marsh area between the two. Now is the time to do it. I might get lucky, you never know. The good thing however is that we managed to "clear" a few of the ponds he frequents. So we know now, that it's not on the pond and won't go threw once the ice melts. The marshes are another place to check now because the spring is not the time for checking those. It's about impossible. There were lots of critters out, squirrels, woodpeckers. It's still hard walking out there. It will be better once the snow is gone. Even though we'll lose the trails, we'll gain the ability to walk twice as long before getting too tired, and we'll also gain the ability to see things a lot better. I just hope the antler is not too badly damaged if we do not find it until spring.
Woodpecker I saw on our hike

The two Wild turkey toms were here this morning again... they don't even bother running when I go outside and start the atv in the morning. Bucket is getting big... quite big. I looked again and she might have her kids anytime from the 1st of March on. I ordered my milk replacer today and some lamb too, just in case. It's always better to be safe than sorry. I hope we get a good summer with lots of good pasture this year - like last summer. Everyone complained because it rained so much but it was great for the pasture - the animals had grass all summer long into the fall.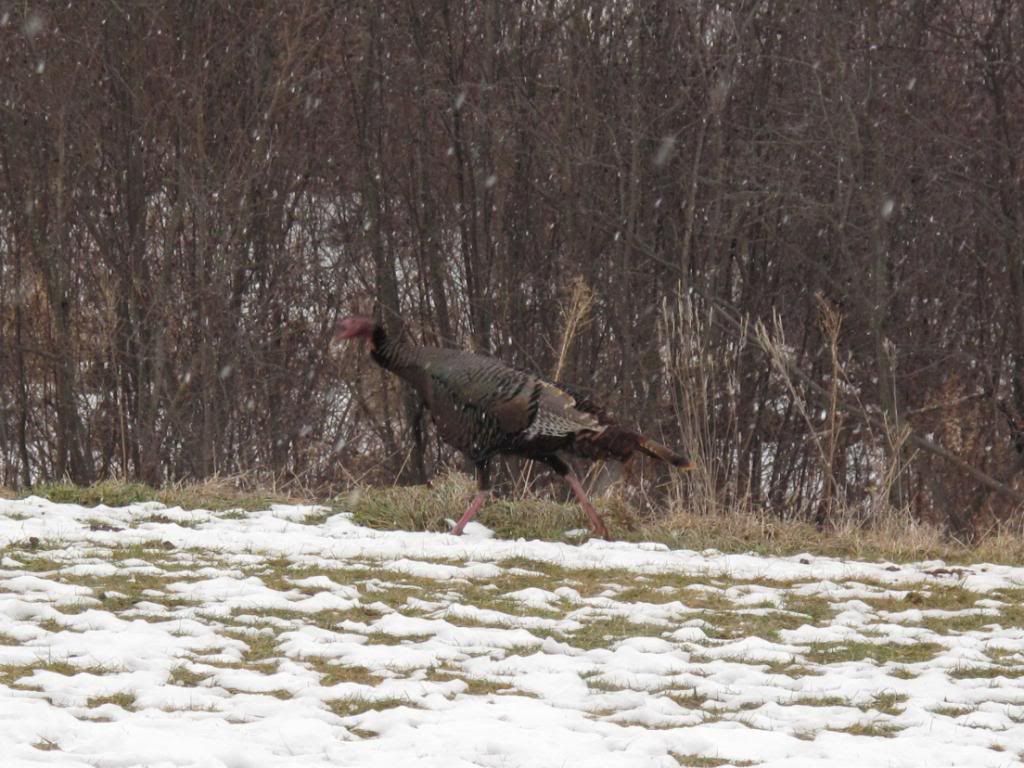 wild turkey on the run!

Kevin has been busy looking for new pans for maple syrup time... the one we have is not big enough and slows us down way too much, so we need to figure something out and soon. You can see on the snow where the sap ran from some of threes a few days ago in the warm weather. We are also going to sit down this afternoon and make our list of things to do for the garden and plan it out. We are running out of time to get things organized and we need to bring some cedar in. We are hoping to add at least two more raised beds this year, and also fence the garden for good. Usually we just do a temporary fencing. We are really going to focus on our garden this year, and hopefully get the inside of the house finished or at least a lot done on the walls, in the kitchen, and finish the sunroom so we can enjoy that and eat outside all summer without the bugs. I am really looking forward to that.

I'm off to do the barn chores for the evening. The wind is still howling and it cuts like a knife. If the wind wasn't up, the cold would be a lot easier to handle. Tonight I'm going to make Hungarian meatball stew. If it turns out well and we like it, I'll share the recipe. It was going to be salmon night, but with this bitter cold when I come in for the evening, something warm and comforting sounds better.