beans, beans, the magical fruit...
Few things are more comforting than beans....
To begin this adventure into the wonderful world that is beans, cornbread, and of course chow chow...
I first made the beans.
I started with 4 cups of dried Pinto beans. I did not soak them. Make sure all your beans are in good condition, pick out any bad ones. Run under cold water for a couple minutes to rinse them.
Then put them in a big pot, cover them a good 2 inches with water. Take 4 slices of bacon and just cut it or break it up into chunks and toss it in the pot with the beans and water. Bring to a boil, then cover and turn down the heat and let it simmer.
For 2, 3 hours.... until the beans have thickened with their gravy and are all nice and tender. I do add a little more water when needed throughout the cooking process - but don't add too much. Of course never, ever let them get dry. They need lots of sauce to keep their delightful goodness.
Then add salt and pepper - to taste. Add as much or as little as you'd like. Some people add other stuff, like chili powder, or whatever. I did not.
Next you make the cornbread. I use the same recipe everytime. It's my favorite recipe, it always turns out, and pretty much it's foolproof.
Because it's the end of the year and I am feeling generous, I will share the recipe with you.... :)
It's simple. You need:
1/2 cup softened butter
1/4 cup sugar
2 large eggs
1 cup of milk
1 cup flour
1 cup yellow cornmeal
1 tablespoon baking powder
1/2 tsp salt.
Preheat your oven to 375 degrees F, grease an 8 inch square baking pan.
Then mix your butter with your sugar and eggs. Then add everything else, mix it together (cornbread is not cornbread without lumps, no need for perfection here) then pour it in the prepared pan and toss it (gently) into the oven for about 25 minutes or until a toothpick inserted in the center comes out clean.
The Chow Chow recipe I cannot share. I am going to enjoy some of this delightful homemade chow chow John made in WV with my beans and cornbread. I've researched chow chow and it's quite a thing of time and love. I look forward to trying my hand at it next fall.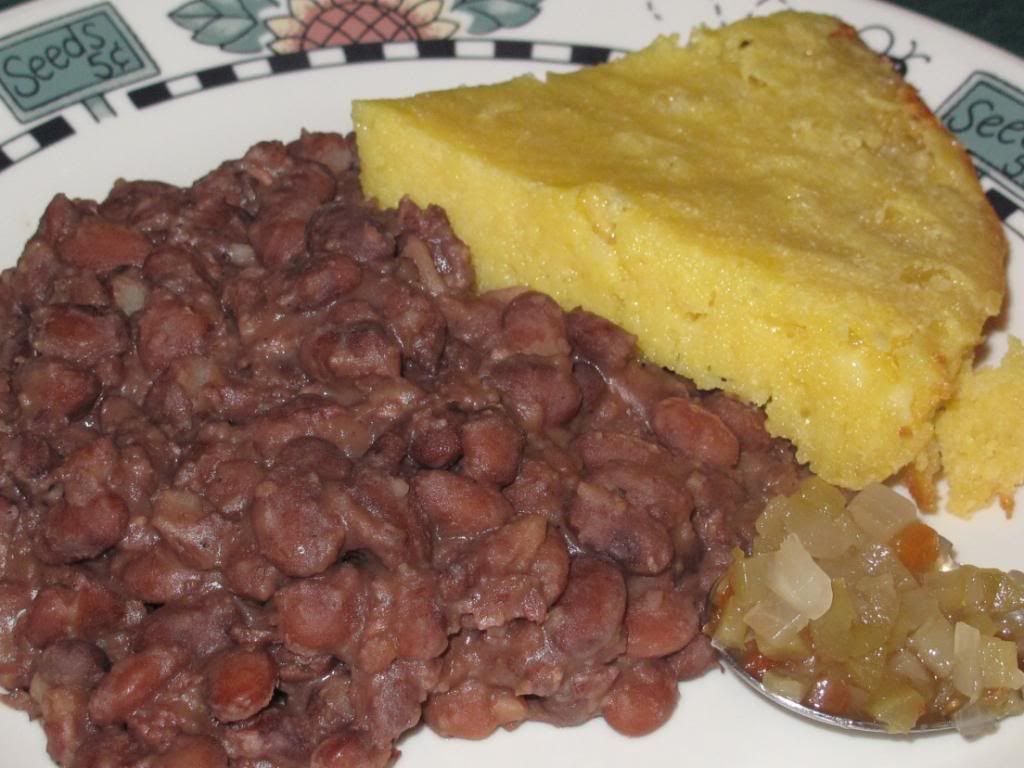 Now... it's time to eat!