We have a new baby. We picked Buckwheat up two days ago. He comes from a dairy farm, a big operation where baby boys are not needed. He was only two days old, but I figured it was worth a shot. The night before last I didn't sleep well worrying. He was not thrilled about his first bottle. Getting a baby to take a bottle can sometimes be, let's just say, not an easy task.
But yesterday morning he was ready go and he's been pigging out ever since wanting more, more, more and getting upset when he can't drink till he can't walk anymore. It's for his own good, but he doesn't seem to realize that. He's looking really good today, and his coat is nice and smooth. He's polled, he doesn't have any bumps that will be horns at all. He loves cuddles already and is a real sweetheart. So far the other goats have shown no interest in him when they come in and out of the barn, he's too small to be of any concern to them. Max is really excited, and Flavious is really jealous, so that's normal.
We also picked up 4 rabbits from a woman who is loosing her farm. Two Flemish Giants, and a Netherland Dwarf, our first, and a little mix. Three of them are boys and they are all neutered already. The female Flemmie lives with the two small boys and it's too funny. Larry is the male Flemmie, and he's huge. I mean Flemmies are big, mine range from 12-18 pounds but when I weighed Larry he is over 25 pounds. So he needs to loose a little bit of weight just so he can live a longer life. It's normal for Flemmies for fatten up like that since they are bred for meat. I want him to live as long as he can though, so I need to keep him relatively fit and healthy.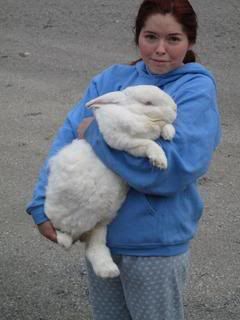 Everyone is doing really well, adjusting just fine. It's been warm outside the past two days, over 50 degrees. We've been getting frost so this is a real change. We got swarmed by the Asian Ladybeetle yesterday, whom woke up because of the warm weather. You couldn't see your hand in front of your face there were so many of them. They are calling for rain today, possibly turning to freezing rain overnight. But it's still warm, although it does look like rain.