It's a beautiful sunny fall day today. Most of our leaves are gone thanks to the frost but the air is cool, the sun is warm. It's as near to perfect as you can get. The animals think they should be going to bed now at 3 PM. Because it's dark at 6:30 they usually go in around 5:30 - 6. But they all herd up and stand at the barn crying and crying, from 3 PM on. Kevin says they are spoiled brats. It's probably true.
I've finished the 4 1/2 bushels of apples we got off our good tree. 14 1/2 pints of apple butter, 5 pints apple sauce... and 12 1/2 pints of Apple Jelly. The apple butter takes the longest, about 14 hours, but it's oh so worth it. Of course we had multiple apple crisps, cake, and pies.
Since we didn't grow a big garden this year because of our trip, we went to visit our "pumpkin man" outside the village to load up. We've got four big pumpkins for carving, for seeds, and to share with the animals. I've got 6 pie pumpkins... for pie of course. I bought several small gourds, because I love gourds, I can't help it. This spring I'm going to plant a ton of pumpkins, gourds, and squash. We've grown pumpkins before. I just love winter squash and pumpkins, I look forward to them every year. I got two huge Hubbards to freeze. I'll cut em up, cook them, and then freeze them so we can eat them all winter.
We celebrated Thanksgiving here in Canada on the 12th... Even though it's just me, Kevin, and the critters, I always cook up a huge meal. I think it's my Polish Grandmother coming through me. She always had a huge family to feed, and loved to cook. Although I never got to meet her, I feel like her sometimes. I love to feed people - even though I rarely get such an opportunity out here, Kevin gets to benefit from that need sometimes. and ALL of the animals got pumpkins, seeds, or another special treat. But come to think of it I think pretty much everyone here enjoyed the pumpkins or the seeds.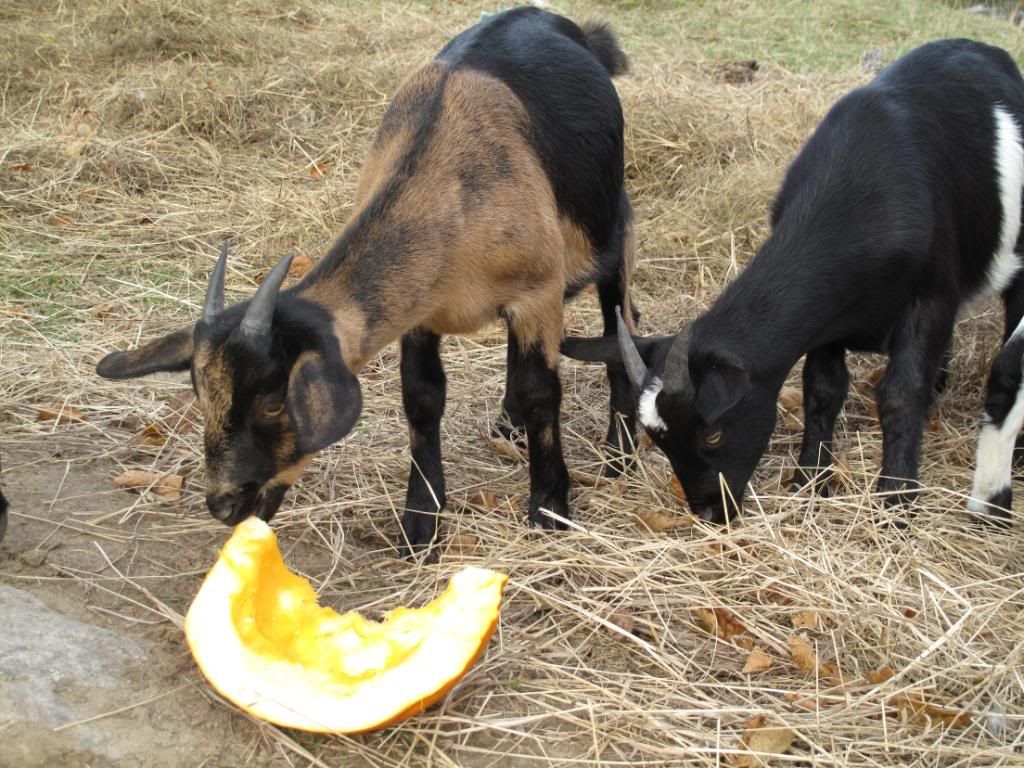 The other night after I had just put our dinner (cottage pie with Guinness) in the oven, Kevin called on the radio from the bush.... he said.... "there's a cat out here." Now we've live trapped a handful of cats out here - always completely "I'll rip your eyes out if you look at me" wild. This cat walked up to Kevin, but was to nervous to go all the way. So I jumped in the mule and back it out from under the porch like a bat out of you know where, and stopped to switch gears. That's when I noticed the little buck standing in the yard staring at me. It's the one I saw the night after we got home from Alaska - he walked right up to me then too. He's a spike, but one of his antlers is broken so it sticks straight out across his head. The coyotes starting going crazy across the pond, which spooked him, but he stayed in the yard.
I was heading down the trail and it was almost dark, but I didn't turn the headlights on because I didn't want to scare the cat. I found the cat on the trail coming towards me. I stopped and got out, and he didn't run but kept his distance. After a while I did get him to come to me for food, and he rolled over for me to rub his tummy. I picked him and started bringing him to the mule, but he heard the tractor and took a chunk out of my arm and ran off into the juniper. He's healthy, his coat looks good, he's not thin, and he's tame. So he's not been out in the bush for too long.
We left food out for him/her and set the live trap up at home. This morning there was tracks on the seat of my mule, but the trap was still set. Kevin went out to his beaver dam road this morning, and saw the cat again, so we set the trap up by the dam. The only problem is we are more likely to catch a raccoon or beaver there than the cat. But it's worth a try. The cat is scared - he doesn't know whether to be trusting or not. I'll keep leaving food out and hopefully he'll come around. I saw a little tiny raccoon last night, not much bigger than Norman. He's tiny. He was wandering around my horse pasture gate. I was getting hay for the horses so I didn't have my camera with me, of course. Never when I need it. Since this event, we've seen THREE other cats.
A few nights ago the unexpected happened.... We saw Torn Ear. Just before dark I decided to go for a quick ride in the mule to look at some apples and Kevin came with me. Just as we were coming back and going into one of the fields behind our house, Kevin yelled "look at that rack" there was a tree blocking half the trail but on the other side I saw a huge buck running. I stopped the mule, jumped out and yelled "hey Torn Ear is that you?" and the buck stopped dead in his tracks in the middle of the field and looked right at me. My heart stopped beating and I started to cry, I couldn't help it. It was him. Kevin said no, that's not him, can't be. We drove up the trail into the field and he took off for the bush. I stopped quickly and yelled again, and he stopped again at the tree line and stared at us. His antlers are bigger than last year. This is will be his 7th year wintering over with us. If he survives.
Just seeing him again is a huge blessing. It was like seeing an old friend you've been waiting to see but never imagined would show up. Hopefully I'll be able to see him again. It's normal for us to spot him in the fall and not see him until the snow flies. I will never forget that moment though. I've had this little tiny hope inside me for weeks he'd show up... always looking over my shoulder wondering if he's watching me in the bush. It's like he just shows up to let us know he's alright and that's he's here.
A friend has been out here putting in a new trail for us for the past week or so. It's finally finished. Buddy had fun riding the new trail the other day....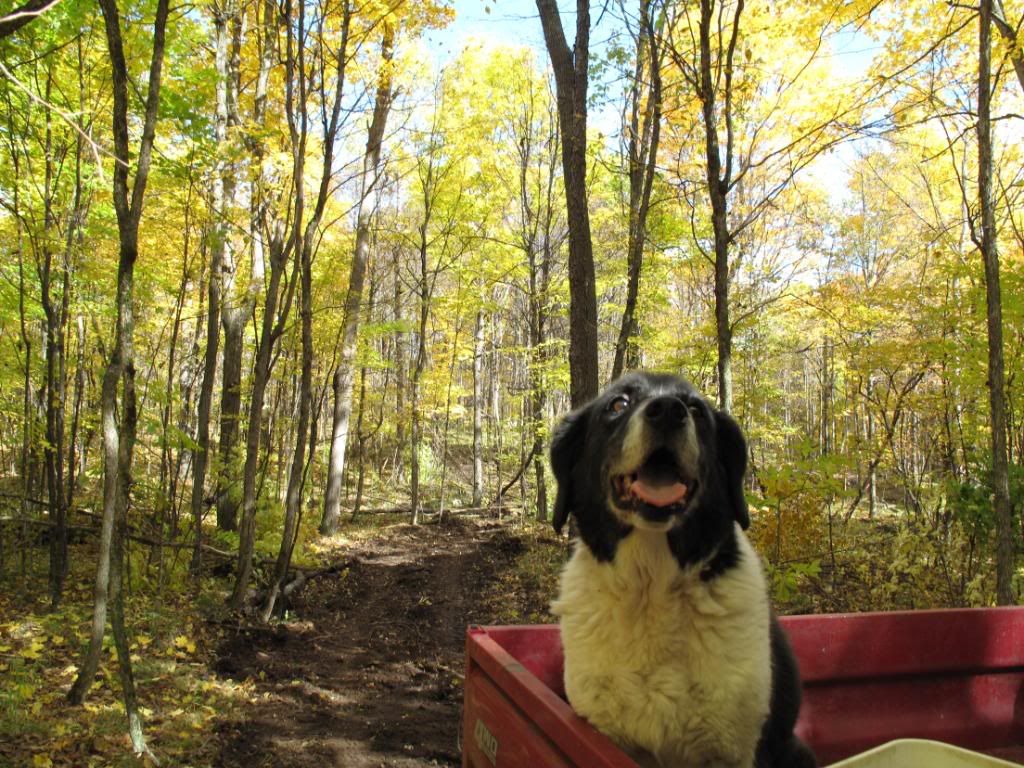 Charlie popped a track but the guys were able to get it fixed pretty quickly thankfully...
Flavious continues to grow like a weed...
He's very different from Max in a lot of ways.... but shares his out going happy go lucky personality, for the most part. He's a little more reserved though.
and just a few pictures....
Our resident blubbering fool: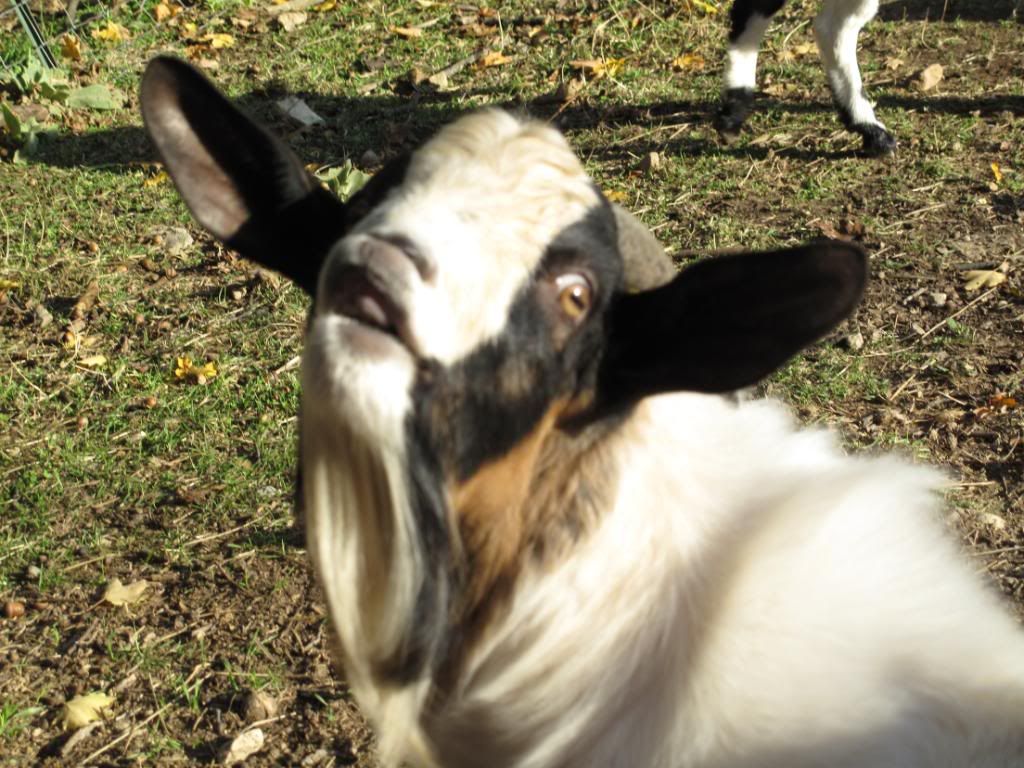 and Jack with his winter woolies on... I've got him on Bute right now, it's a pain medication. He's been favoring his front right leg. Ferrier and Vet cannot see any reason for it since he's got no swelling and no heat, and no obvious injury. Somedays he's fine, others it seems sore. So we are hoping this will help any swelling we cannot see and also any pain that he might have. He's been on it for a few days and already he's doing so much better.