So this afternoon I gave up cleaning to go out in the bush with Kevin and mark trees for harvesting. We haven't even started that yet. It was cool this evening, about 55 degrees F. We spent a couple hours out in the bush and then I put the kids to bed and sat out in the barnyard having a glass of wine while Flavious and Max played. When we got home it was after 7PM and getting dark. I put the goats in and when I went to put Bucket and Bulrush in their stall remembered I had cleaned out the stall today but not put new shavings in. Normally this would be awful - I still had animals to put to bed and it was almost dark... so I'd be rushing and having trouble seeing. No trouble tonight, I just turned on the lights! I cannot express what a great feeling that was to turn on those lights and know that there was no rush, I'd be able to do all my chores and be able to see doing them. I sat out in the dark in the barnyard with the light of the stars and the barn lights. The dogs played and the horses and Llama ate their grain.
It was so peaceful. It was a gift I cannot ever be grateful enough for. Before I was even with Kevin I was doing the same thing, hauling water to animals in the dark without enough light. Nearly 10 years of my life I've dreamed of having water and electricity in a barn. It really is a huge blessing for me, and for the animals. Now they can listen to music and Christmas carols!
We had a wonderful time out in the bush. Kevin marked trees... I took pictures and tasted apples from various trees. The thing about living where we do and how we do is - you must go with the seasons. I wasn't going to go with Kevin since I had been cleaning and really had a ton of dishes, laundry, etc to do. But I decided going with him was more important and I am so glad I did. Our marshes are full of life and color, and I saw things that tomorrow might not be the same. The seasons come and go and I'm so glad I realized that cleaning will always be there, it will wait for me to come back and finish.... the colors in the marsh will not always be there. Soon the marsh will be blanketed with snow and frozen over, and everything will change. See it now, or you won't have a chance.
However the one downside of the entire evening is, it's not almost 9PM and I'm running around trying to get something made for us to eat. I did not put my crockpot on as I would usually do since I planned on cleaning and being near the house all day. I had made some dough for garlic fingers which I'm cooking now and I've got some mac and cheese (from scratch of course not a box) cooking. It's quick enough but yummy enough to be a good enough ending for the day. It's hard to run around trying to get things cooking in the kitchen while dodging a Chihuahua hell bent on getting any crumbs that may even come close to hitting the floor.
Kevin said the funniest thing to me this morning. He said that something had bothered him last night (his allergy) and I tried thinking of what it could have been. He said he thinks it was the snack he had at 3 AM. He said he had some eggs out of the fridge. There was a bowl of hard boiled eggs in the fridge for the birds and he stole their eggs! It was too funny. It bothered him just a little, he's fine and didn't react too badly too it. And thankfully the birds still had a couple eggs left!

Caterpillar of some kind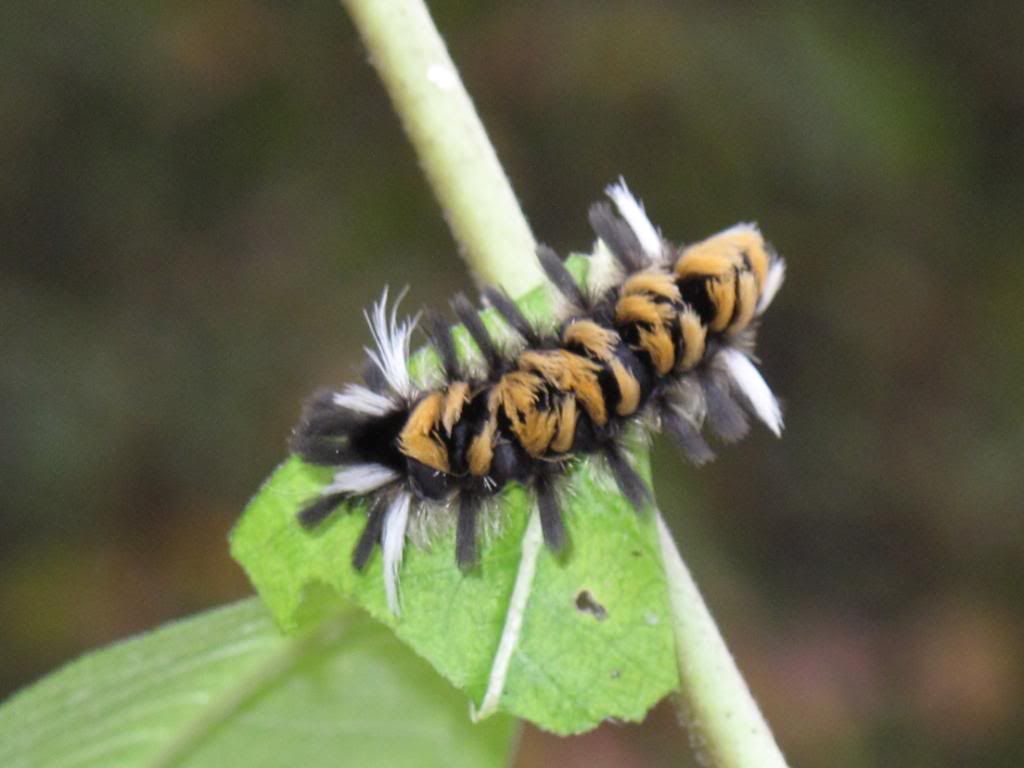 One of our marshes in all her glory!
The sun setting on another marsh
Will share the Mac & cheese recipe tomorrow - it's good comfort food. I must admit I have not used this recipe in um... five years. But that's how long it's been since I've thought of Mac & cheese until today!
Off to eat dinner and watch Les Stroud eat bugs on Surviorman.