Spring catch up and Alaska
Not long after my last post I had surgery to have a lump removed, which was benign. But that slowed me down for a little while. Spring was busy as usual with breakup, kids, lambs, chicks, clean up, maple syrup, and trips to Washington D.C. for Doctors appointments for Kevin.

Our first baby to show up this spring was Lavender, a white Lamb. Lila is a Black Welsh ewe and Braveheart is a Dorset/Suffolk cross. Lila's past two lambs have been black and had all the traits of the Black Welsh and no sign of Braveheart, but Lavender came out pure white. She looks like Braveheart and has his wool - except she is small like the Black Welsh.
Braveheart, proud daddy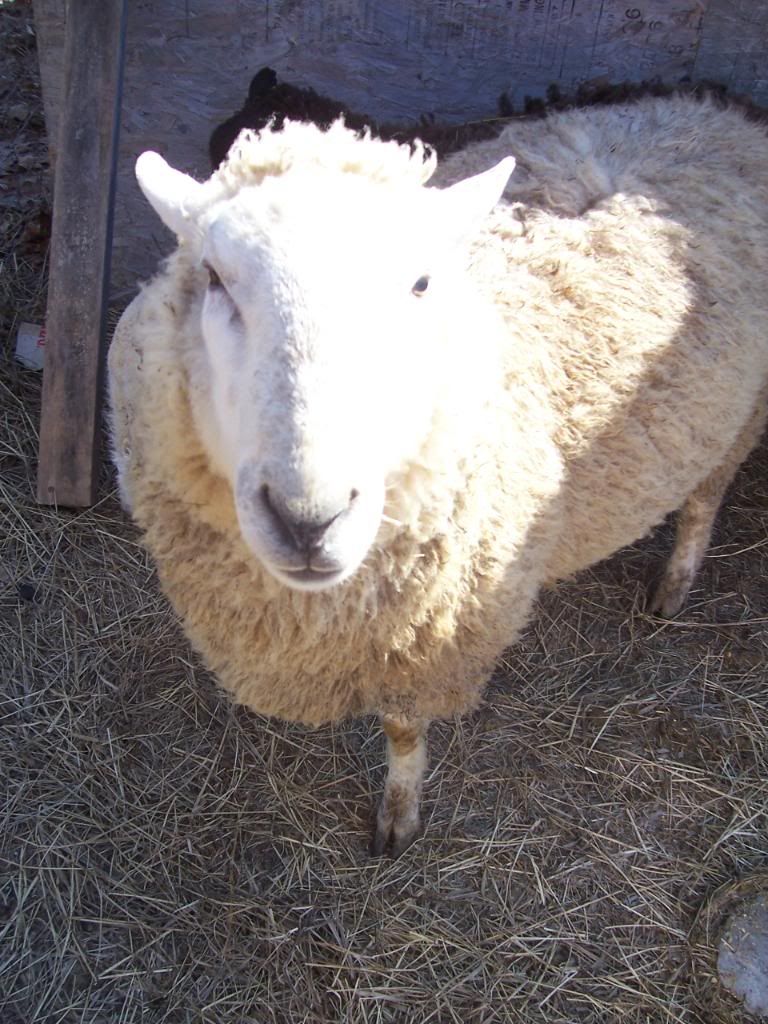 We had our very first chicks this spring - after 5 years of keeping chickens, a couple of our Bantam hens hatched some of their eggs.... we had about 15 all together.
We got a few gallons of Maple Syrup done this spring. With having to stop and go to Washington D.C. during Maple Syrup time and a few other trips to Syracuse New York mixed in, we didn't get as much as we would have liked to made. But we have enough to get us through until spring when we'll it again. We had a decent sap run this year - at least for us small producers just making it for ourselves. Next year we'll try to make some for some friends as well.
Daisy and Dick helping at our camp
Straining the syrup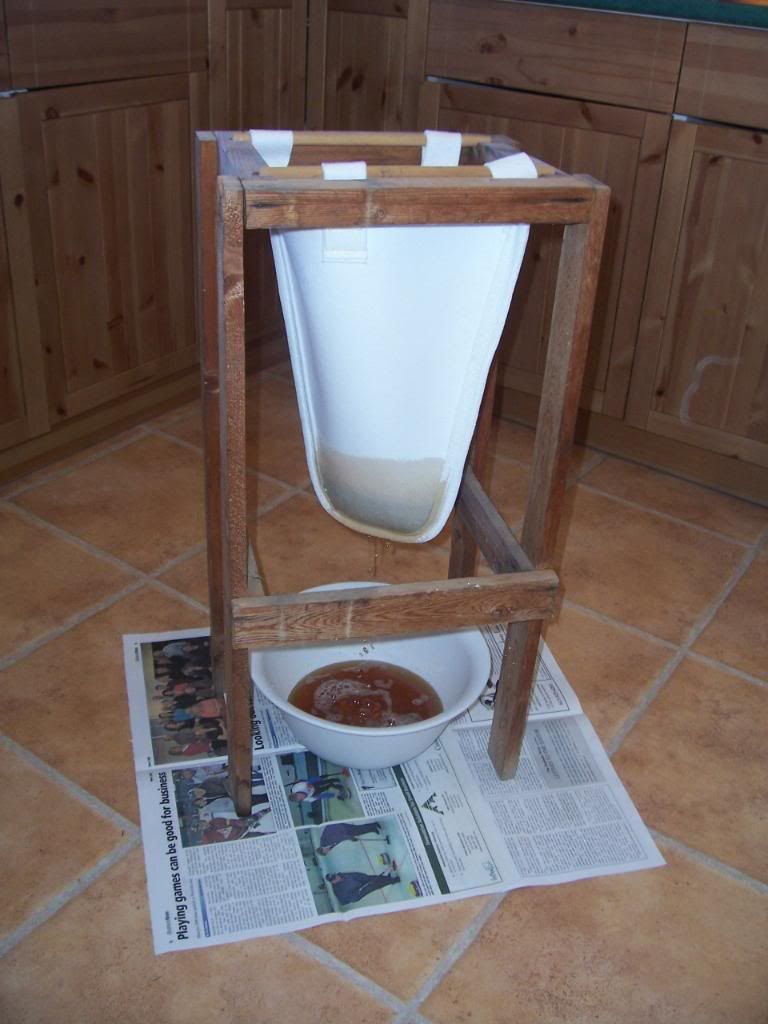 I have pictures of our camp I'll have to find and post. We had a nice set up. If you've ever boiled sap for syrup you know how much work goes into cutting and splitting the wood and keeping the fire burning for hours at a time. We learned our lesson this year that our pan is way too small, so we'll need to invest in a bigger pan before this spring.
We had four healthy kids this year. Bucket had three bucklings but two were stillborn, but one was healthy and lively. Butternut had twins, a buckling and doeling, Basswood is our little boy and Mini-Nut is the female.... she looks just like her mama. Biscuit gave us a single doeling whom she decided she wanted to kill - that was fun. Buttermilk whom we call Baby, lived in the house for over a month. I was able to get Biscuit to let her nurse but only if I forced it on her, she really hated this baby. A lot of late night feedings and 2 AM milkings but we all made it through just fine. Biscuit turned out to be my best milker producing a good amount of milk and she'll stand anywhere for me for as long as I need quite happily.
Mini Nut and Basswood just born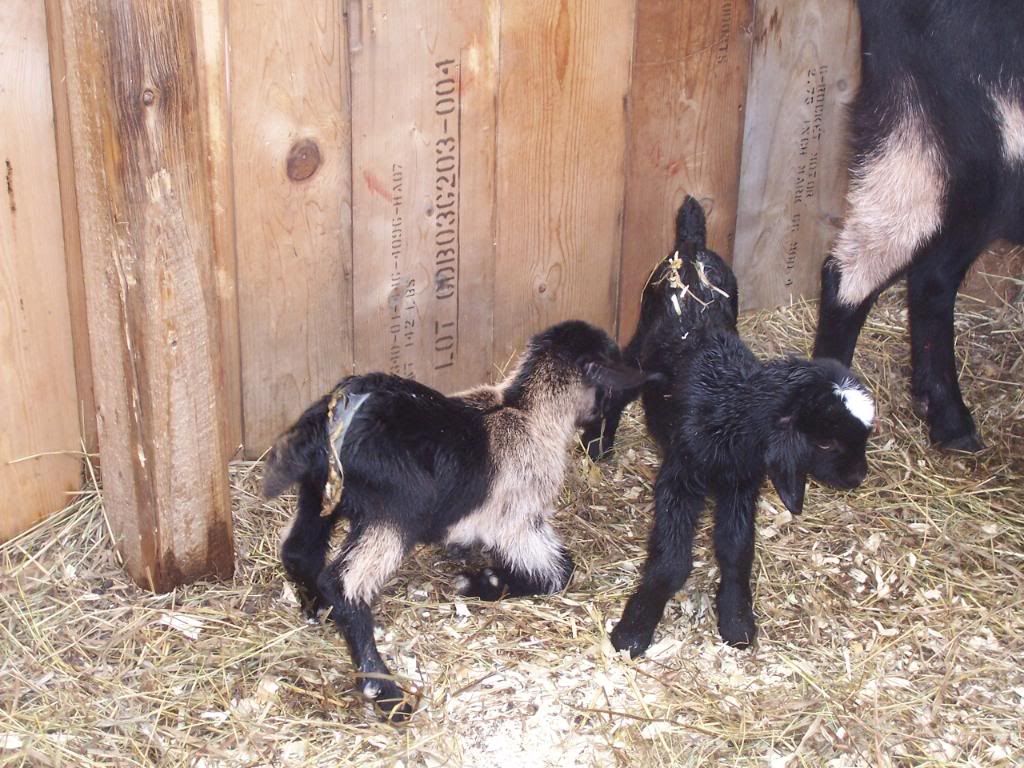 Kevin and Bulrush
Nibs passed away this spring, the last week of May. 10 1/2 years I had that rabbit in my life. He was one of a kind and I miss him terribly. Saying goodbye is always the hard part, but I am grateful for having such a special critter in my life for so long.
Nibs and Kiwi this spring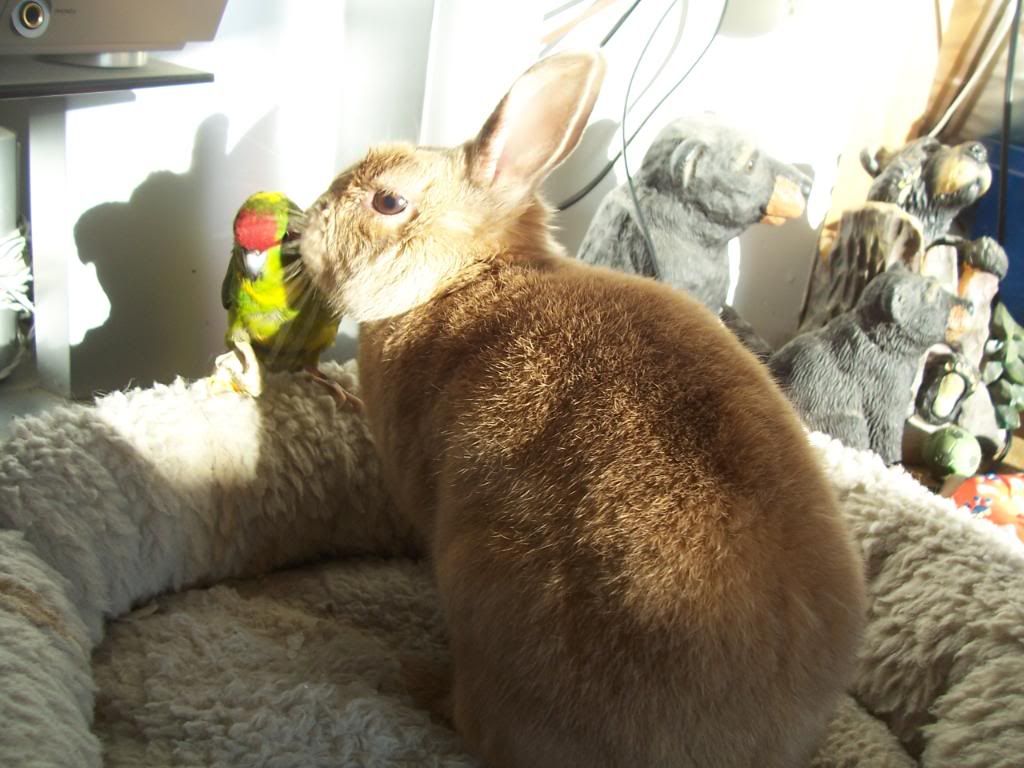 The 1st of June we left for a two month trip to Alaska. We drove back to see our friends. It's 4,000 miles straight from our house to our friends in Tok - but we made a few other stops on the way up at Devil's Tower, Badlands National Park, Yellowstone..... We had a great time in Alaska with our friends, whom we are so grateful for. Buddy & Pam took us fishing out of Valdez and we caught some Halibut to bring home this year instead of Salmon. I got sea sick for the first time ever - but that didn't change the experience much. We got to see a Humpback whale up close, Sea otters, Porpoise, Star fish.... It was worth it just to see that whale! What a thing to see up close.
We got to see all the critters, black bears, Grizzly, Moose, Caribou, Elk, Stone Sheep, Bighorn sheep, Dall Sheep, Mule deer, Prairie dog towns, Kevin even saw a Lynx near Pink Mountain in British Columbia. On the way home we got to see family and friends in various States. It was well worth the trip, we miss our friends in Tok a lot and wish we could see them more often. It was a little too long away from home and both of us were very homesick on the way home. But we are grateful for the good times and good memories.
We are however happy to be home and busy as usual. For my Birthday which was in August, Kevin decided to get water and electricity to the barn! I am so thrilled. It's such a huge project and a huge expense since our barn is over 300 feet from the house - but this will make my life 100% easier. In the winter I won't be working in the dark, or milking in the dark, or kidding in the dark, or fixing things in the dark.... and best of all I will not be hauling water to all the animals from the house all winter. Anyone who has ever hauled water on a farm knows what that is like. I've done it for 10 years so I feel like I've earned this, and I sure will be extra grateful for it. I've been busy canning of course. Watermelon rind pickles, watermelon jelly, Pickled Cauliflower, peaches. This week I'll do tomato sauce, peach jam, and very soon Pickles. I'm doing some local corn up today for freezing. I've also got a big pot of Hungarian Potato soup cooking, and am finishing up the last of my Pickled Cauliflower. Second to the animals, cooking is definitely my favorite thing to do.
Kevin has been working on his roads and fixing damage the beavers caused while he was away. The leaves are starting to turn already on the trees.